Revenue Growth Management
La gestión del crecimiento de los ingresos (RGM) ha surgido como una capacidad crítica para desbloquear el valor comercial de las iniciativas de Big Data e Inteligencia Artificial para las organizaciones.
La gestión del crecimiento de los ingresos impulsada por la inteligencia artificial consiste fundamentalmente en descubrir oportunidades de ingresos tanto a corto como a largo plazo y aprovechar activos de datos dispares para aprovechar las oportunidades de ingresos identificadas.
Para lograrlo, las organizaciones necesitan procesar enormes volúmenes de datos de diversas fuentes y descubrir patrones únicos para impulsar y optimizar las iniciativas de crecimiento de los ingresos.
Esto implica integrar múltiples fuentes de datos y extraer información en tiempo real para generar mayores niveles de rentabilidad de las ventas. Las iniciativas de RGM deben generar un crecimiento rentable de los ingresos tanto a corto como a largo plazo.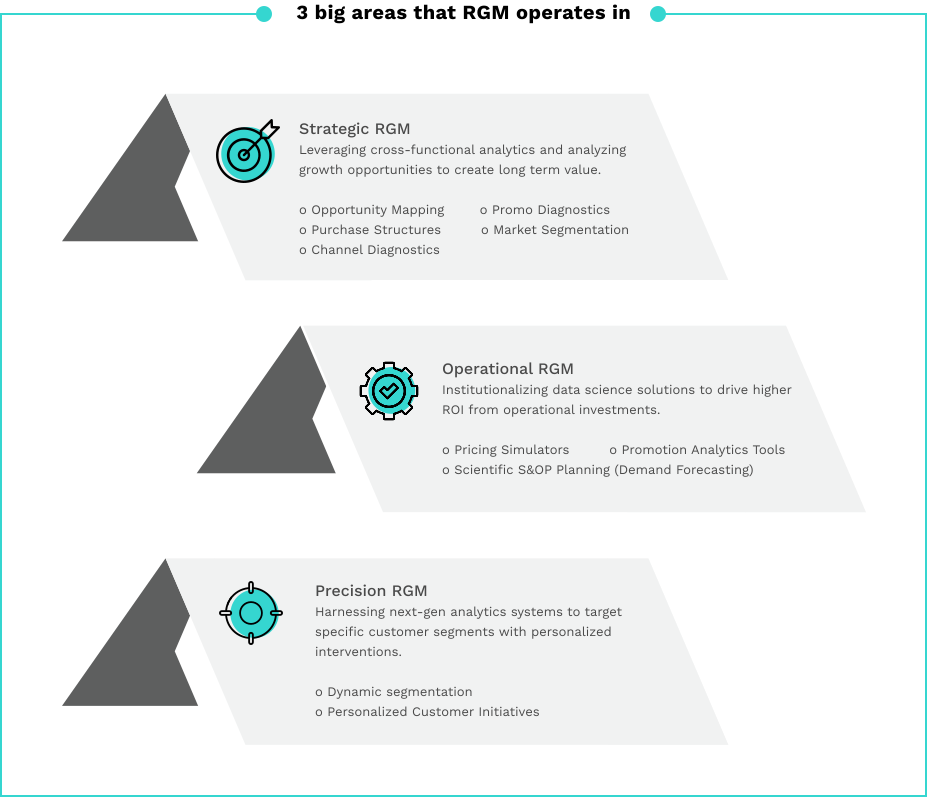 Las estrategias eficaces de gestión del crecimiento y la competitividad conducen a una mayor realización de los ingresos, un mayor crecimiento orgánico, la expansión del mercado y la diferenciación competitiva.
Un vistazo a cómo conducimos RGM
Adoptar RGM en los modelos empresariales existentes supone para muchas organizaciones un cambio de paradigma que requiere una transformación holística de los procesos tradicionales.
Pero no se preocupe, con años de experiencia mundial probada en el sector en la implantación de RGM a escala, ofrecemos a nuestros clientes las mejores capacidades de su clase.

Soluciones RGM para clientes del sector de los bienes de consumo en más de 20 grandes mercados mundiales.

Desarrollo de soluciones ágiles y centradas en la adopción por parte del usuario, adaptadas a la dinámica del mercado.

Experiencia holística en el desarrollo de soluciones de GRG tanto a nivel estratégico como operativo.

Experiencia en la institucionalización de la capacidad de gestión de riesgos para nuestros clientes mediante el despliegue de herramientas y la formación.
Increase response rates, consumer loyalty and, ultimately, ROI by contacting the right consumers with highly relevant offers and messages.
Maximizing the consumer journey through personalized selling and market segmentation by assessing which consumers might buy one type of product versus another.
Reduce campaign costs by targeting those consumers most likely to respond.
Engaging with consumers at the right moment through the right channel.
Decrease attrition by accurately predicting
consumers most likely to leave and developing the right proactive campaigns to retain them.
Predicting churn rate and taking actions to
extend a consumer's lifetime value.
Deliver the right message by segmenting consumers more effectively and better understanding target populations.
Assessing and understanding consumers in relation to the brand and whether a consumer is satisfied
Targeting consumers across all channels and
analysing the distinct ways a product or service
can be distributed.
Spotting trends in big data and analysing online
behaviour to increase sales.
Supere a sus competidores con tecnología de vanguardia. Le cubrimos las espaldas.
Analytics de Precios
Soluciones
Analytics de Promociones
Soluciones